Simple Steps To Balance Your Seven Major Chakras Using Crystals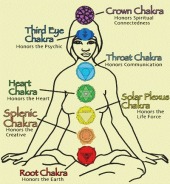 The best thing about living in this generation is that there are already so many health and wellness tips that people can benefit from because of the discoveries of previous generations. This has paved the way for people to live longer, be more sure and confident for themselves, develop a higher self esteem and belief in life, and ultimately become better persons at what they do. Examples of these include yoga, where an inner balance between mind and body is sought and maintained; acupuncture, which has done wonders to ensure continuity of the body's performance, as evidenced by sports personalities and athletes who use this practice, and chakra, a Sanskrit practice that involves Hindu cultures and beliefs

The first step in knowing how to balance your seven major chakras using crystals is to lie down on the floor, preferably with a soft but firm mattress. The next thing to do here is to get hold of a clear quartz crystal. Place this at the top of your forehead, making sure that it lies just around the area of the hairline. The spiritual nature of the chakra will be taken care of here because of this quartz crystal.

Right above your eyes, a crystal with a purple color can be placed at the center area of your forehead. Your ability to be intuitive will be taken care of here. The throat area should also have a blue crystal, and if done correctly, will take care of the communication aspect. At the center of the chest area, a green crystal is suited best. Emotions will be at check because of this crystal. The yellow crystal should be placed on the stomach, an orange one located at the abdomen, and a red one on both sides of one's pelvis.

Knowing how to balance your seven major chakras will involve being able to breathe for fifteen minutes with these crystals located on their respective positions. Doing this for two or three times every month will be beneficial to anyone.