Natural Ways To Improve Your Eyesight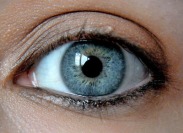 H
aving an eye defect can be cumbersome. Without corrective eyewear, you can't see people from afar (if you're nearsighted). Some who do wear contact lenses need to continually spend money for solutions.
The importance of clear eyesight cannot be stressed enough. Having 20/20 vision is required for certain professions, like in the case of flight stewardesses. Parents can remind their kids not to abuse their eyes. At home, there must be proper reading (not against the light) or television watching habits (not too near the TV), and foods to help enhance eyesight. To naturally improve your eyesight (and your kids' vision as well), regularly eat foods rich in vitamin A, like carrots, squash, and tomatoes. Apples, grapes, and foods that purify the blood, like spinach, and foods rich in lutein will benefit your peepers. It's also best to use healthy fats in meals, like olive oil for salads. Antioxidant-rich fruits like berries, cherries, and pomegranates may ward off macular degeneration, a common cause of blindness among seniors. Also, herbs such as bilberry and eye bright are very beneficial for the eyes. As a supplement I highly recommend Pretty Eyes.
Another natural way to improve your eyesight is through exercise. Begin an exercise with your eyes shut close. Then, open them abruptly to stretch. Arching the brows will complete the stretching exercise, which can be done numerous times a day. Another simple eye exercise is to move the eyes to the left side, hold it for a couple of seconds, and then do the same to the right side, repeating the left and right movements 10 times. The next step is to move the eyes up as far as you can, then roll your eyes in clockwise fashion. Do this exercise five times, before repeating in counter-clockwise manner, then ease your eyes in a relaxed mode. Other eye exercises may be to move the eyes as if it were following the number eight – in clockwise then in counter-clockwise manner. Focusing on objects that are more than 10 feet away, like a building or mountain, then shifting the eyes to an object you can hold about 10 inches away from you, holding still for five seconds, before re-shifting your gaze to the distant object and also holding for five seconds. This eye exercise may be done up to 10 times.