How side effects of prescription drugs affect a marriage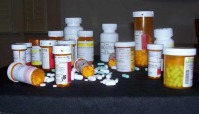 Some people wonder why they get the shakes and other symptoms like mouth sores, like inability to concentrate, or even hallucinations and paranoia. Little do they know until, they consult a doctor that the culprit is the prescription drug. Wives who are often anxious or depressed, or husbands with decreased sex drive as a result of taking prescription drugs affect their marriage in more ways than one. Strain on personal relationships is usually encountered. Apart from triggering mood swings or causing constant irritability, dependency on certain drugs may also create sleep disturbances and impair a man's sexual functioning. There's also the likelihood that when various symptoms are experienced as a result of popping pills, overall quality of life is impeded.

Abrupt stoppage of prescription drugs may also create many uncomfortable physical reactions – breaking out into a cold sweat or trembling, muscle cramps, vomiting, and so on. The worst case scenarios are in the case of famous people who have overdosed on pills, is death. Taking multiple drugs on a prolonged basis for various purposes like easing anxiety and relieving pain, like in the case of late actor Heath Ledger, may also prove fatal. For couples, the myriad side effects of taking prescription drugs cannot be disregarded. Loss of interest in sex usually happens when one or both partners are dealing with symptoms of illnesses and the effects of prescription medicines. Selective Serotonin Re-uptake Inhibitors (SSRIs), the class of drugs most people reach for when experiencing depression (an example is Prozac or Fluoxetine), can cause a downswing in libido.

Multiple drugs, including Valium and Xanaz, may create problems in whole-body functioning, including the sexual aspect. Non-Steroidal Anti-Inflammatory Drugs (NSAIDs) likewise cause side effects that are sexual in nature. In some cases, NSAIDs causes nausea, chest pain, shortness or breath or even stroke. Being aware of how drugs affect your body is very important. In today's stress-filled world, some couples seek instant relief from the physical discomforts they may be feeling. The irony of the situation is that the drugs they immediately take to ease anxiety and problems -- like difficulty in sleeping or pain -- end up causing a whole new set of problems.